NDA (National Defence Academy) Coaching in India
Come and be a part of the esteemed Chanakya Defence Group, renowned as one of the premier NDA coaching institutes in India. We offer comprehensive training for both the written exam and the SSB interview, ensuring complete preparation for NDA/NA aspirants. The National Defence Academy/Naval Academy (NDA/NA) examination is conducted twice a year by the Union Public Service Commission (UPSC) to identify deserving candidates for commissioning as officers in the armed forces. This article provides comprehensive details about the NDA examination. Seizing the opportunity to be a part of the NDA is a rare chance that no candidate would want to miss. However, achieving the prestigious NDA uniform requires dedicated efforts. The most effective approach to clear the NDA examination is by enrolling in the finest NDA coaching institute in India. At Chanakya Defence Group, we offer unparalleled expertise with experienced faculty who will prepare candidates for both the written exam and the SSB interview. Our coaching program equips candidates with the necessary knowledge and skills to succeed in the NDA examination. Join us and embark on your journey towards a rewarding career in the Indian Armed Forces, including the Indian Army, Indian Navy, and Indian Air Force. Our coaching will enhance your preparation and help you excel in the various selection rounds of the NDA exam. Below are the exam details for the NDA entry.
Our Branches in Chandigarh / Pathankot +91 8146034322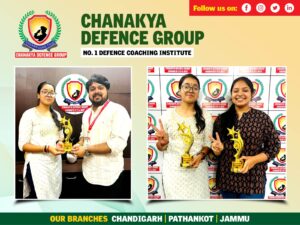 OVERVIEW
For individuals interested in the vacancies announced by the Union Public Service Commission (UPSC) to join the National Defence Academy (NDA), it is essential to have a comprehensive understanding of what the NDA entails and the prerequisites for joining NDA Khadakwasla.
| Particulars | Details |
| --- | --- |
| Exam Name | National Defence Academy (NDA) & Naval Academy (NA) Examination |
| Conduct by | UPSC (Union Public Service Commission) |
| Exam Level | National Level exam |
| Exam Frequency | Twice a year |
| Selection Process | Written Exam |
| | SSB Interview |
| | Medical Examination |
| Mode of Exam | Offline |
| Exam Duration | 2.5 Hour Paper –I (Mathematics) |
| | 2.5 Hour Paper-II (GAT- General Ability Test) |
| Negative marking | 0.83 marks on Paper – I and 1.33 marks on Paper-II |
| Per Question Marks | 2 Marks in Paper – I |
| | 4 Marks on Paper-II |
| Gender | Both Males and females |
| Application Fees | 100/- |
| Age Limit | 16.5 to 19.5 years |
| Official Website | https://upsconline.nic.in |
TEACHING METHODOLOGY
Now, let's explore the factors that establish Chanakya Defence Group as the premier NDA coaching institute in North India. Additionally, they offer comprehensive preparation for various other exams such as CDS, MNS, AFCAT, TES Army Entry, and 10+2 B.Tech Navy Entry. Here are some of the notable features that set Chanakya Defence Group apart and make it the best choice for aspiring candidates:
Our Branches in Chandigarh / Pathankot +91 8146034322
Chanakya Defence Group's offline classroom course offers a range of distinctive features that make it stand out from the rest. These include:
Unique Teaching Plan Based on Trend Analysis: The course is designed with a unique teaching plan that takes into account the latest trends and patterns of the examination, ensuring comprehensive coverage of the syllabus.
Highly Experienced Faculty: Chanakya Defence Group boasts a team of highly experienced faculty members who bring their expertise and in-depth knowledge to provide top-notch coaching to the students.
Doubt Counter Facility: Students have access to a doubt counter facility where they can clarify their doubts and queries, ensuring a clear understanding of the concepts.
Spoken English Classes: The institute offers dedicated spoken English classes to enhance the communication skills of the candidates, an essential aspect of the selection process.
Physical Training Sessions: Physical fitness is crucial for a career in the defense forces. Chanakya Defence Group conducts physical training sessions to ensure students are well-prepared physically.
Best Study Material by Chanakya Defence Group Publication: The institute provides high-quality study material developed by Chanakya Defence Group Publication, offering comprehensive coverage of the syllabus and practice exercises.
Weekly and Monthly Testing System: To assess the progress of the students, regular weekly and monthly tests are conducted, allowing them to evaluate their performance and identify areas for improvement.
Special Current Affairs Sessions: Keeping candidates updated with current affairs, special sessions are conducted to cover the latest happenings, ensuring they stay abreast of relevant national and international events.
Sunday Extra Classes: Additional classes are conducted on Sundays to provide extra guidance and support to the students, ensuring a thorough understanding of the subjects.
Best SSB Interview Guidance by Retired Officers: Chanakya Defence Group offers top-notch guidance for the SSB interview, provided by retired officers with extensive experience in the selection process.
Fully Equipped GTO Ground: The institute has a fully equipped Ground Task Officer (GTO) ground where students can practice and hone their skills for the group testing tasks.
Comfortable Hostel & Mess for Nutritious Food: Chanakya Defence Group provides comfortable hostel facilities for outstation students, along with a nutritious food mess, ensuring a conducive environment for learning and growth.
These unique features make Chanakya Defence Group an ideal choice for NDA coaching, providing students with comprehensive support and guidance throughout their preparation journey.
Frequently Asked Question
General Question people ask
How to apply for NDA?
The application process for joining can be initiated through the official website.